Sine Nomine is an auditioned chamber choir based in Fall River, MA. Founded in 1993 by Glenn Giuttari, the group performs music from the middle ages through the 21st century. Throughout its history, the group has cultivated innovative partnerships with local musicians and contemporary composers through collaborations, commissions and premieres. Sine Nomine has proudly worked with organizations that include the Boston Camerata, Newport Baroque, Providence College, and the Organ Historical Society.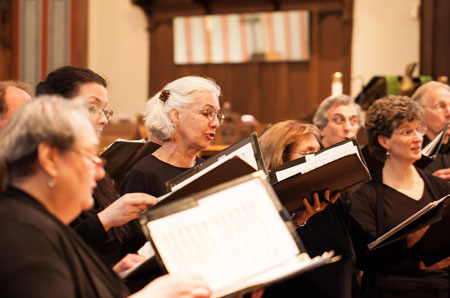 Today, Sine Nomine continues to strive for choral excellence under the direction of Michael Galib. Galib served as Assistant Conductor for the Providence Singers and was the pianist for the Rhode Island Children's Chorus for many years. He has performed as pianist with the Rhode Island All-State Choruses since 2015. He has also served as Music Director of the Unitarian Universalist Congregation of South County for over a decade.
Having graduated with honors in composition from New England Conservatory, his piece Different Ways to Pray was premiered by the Providence Singers in 2017. Winner of the 2004 International Trumpet Guild Composition Competition, The Moffett-Klein Phenomenon has been widely performed, including by students at the Cincinnati Conservatory, New England Conservatory, as well as led and performed professionally by former members of the Boston Symphony, Canadian Brass, and Israel Philharmonic.
Fluent in French, Mr. Galib directed choral offerings and gave recitals at the summer French School of Middlebury College for a decade. He maintains a studio of private piano students throughout Rhode Island, as well as online.
Past Directors:
Glenn Giuttari 1993-2005
Paul Cienniwa 2006-2013
Joseph Fort 2013-2015
Daniel P. Ryan 2015-2017
John Verkuilen 2018-2020
Michael Galib 2021-present